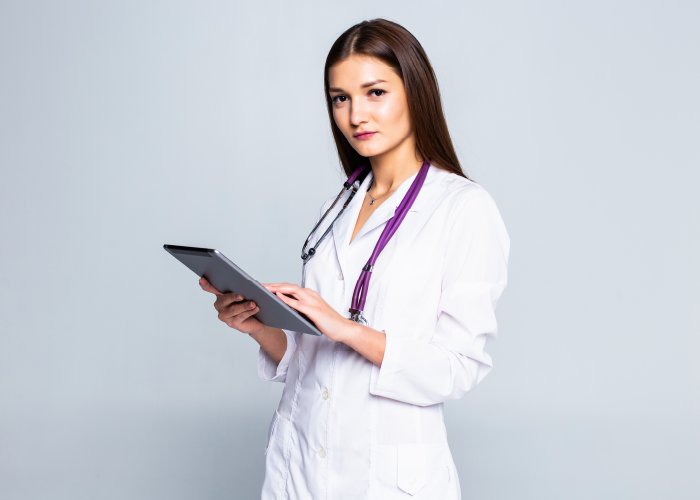 Using Telehealth to Provide High Quality Care in Response to Coronavirus-based Social Distancing Directives (Clon) (Clone)
According to the American Hospital Association, 76% of U.S. hospitals use telehealth services to connect with patients and other healthcare professionals. While telemedicine is not new, the benefits of using technology to provide quick, convenient, and quality health services to patients directly, often in their own homes; is in the news as doctors look for ways to provide critical and continuing patient care during the coronavirus pandemic.

This month, the Center for Medicaid and Medicare Services issued new guidance for American's, especially those at high-risk for complications from COVID-19, to encourage the use of telemedicine as a way to reduce the community spread of the virus. "It's important for all Americans, and particularly vulnerable populations who are at heightened risk, to be able to access their providers when they feel sick or have questions," said CMS Administrator Seema Verma in an agency press release.
The Wall Street Journal reports "public-health officials are urging consumers to use telehealth services to get remote treatment, fill prescriptions and get medical attention during the new coronavirus pandemic… The goal is to keep people with symptoms at home and to practice social distancing if their condition doesn't warrant more intensive hospital care."
As government and healthcare professionals warn American's to stay home and hospitals brace for an increase in emergency care due to COVID-19, doctors are helping patients manage their health using readily available telehealth tools. Both high risk patients who either need acute ongoing care, or who are at risk for COVID-19 symptoms and those looking for general healthcare services without the risk of catching or spreading the virus in a doctor's waiting room, are asking their providers for telehealth.
Most doctors have already been trained on the latest equipment and have implemented telehealth as a tool to improve patient care and reach those who are housebound, living in rural areas, or lacking transportation. In response to the spread of COVID-19, these doctors are now using patient-friendly resources like Emgenex's Practice Tools telemedicine platform to broaden accessibility to telemedicine services to even more patients.
Practice Tools is a user-friendly suite of cloud-based telehealth software tools that are easy to use and simple to integrate with electronic health records. Emgenex currently supports small and large healthcare practices with custom designed telehealth tools, from a simple laptop setup to integrated diagnostic equipment.
QUOTE ABOUT PRACTICE TOOLS FROM CLIENT
Once the spread of COVID-19 has stopped, the implementation of telehealth will only continue to grow as a simple, cost-effective alternative to in-hospital care. Practitioners and patients using it for the first time in response to the coronavirus will learn what many healthcare professionals already know, including these key benefits:
Telehealth reflects a shift in the healthcare business model to consumer-based care, where patients can compare providers and select the best specialist to meet their needs and budget, no matter where they live.
Virtual office visits and enhanced telehealth tools are already improving communication and patient monitoring by removing the barriers between patient and doctor and offering a variety of methods of patient-centric data collection and delivery.
The implementation of telehealth reduces overhead costs with automated billing and administrative tools, enhanced patient scheduling and virtual office visits, and more flexible practice hours.